Luca Forcucci and Mpho Molikeng
Saturday, 09.09.23, door 20:00
20:30

Luca Forcucci (CH/ITA) and Mpho Molikeng (Lesotho)
10 Euro At The Door
Morphine Raum,
Köpenicker Str. 147, 10997 Berlin
Hinterhof 1. Etage
Since 2018, Luca Forcucci and Mpho Molikeng have collaborated on projects involving indigenous instruments, live electronics and improvisation. They recorded an album at the South African College of Music in Cape Town, and played in South Africa at the International Symposium of Electronic Arts 2018 in Durban, Kalashnikovv Gallery in
Johannesburg among many other places. The American composer Phill Niblock provided his film series The Movement of People Working shot in Lesotho and South Africa to be projected during those concerts.
In 2023, they collaborate again during the residency at Akademie der Künste in Berlin of Mpho Molikeng. A first outcome is presented at Morphine Raum.
Kana Kitty, a dancer from Tokyo, will join the performance. Her Butoh is a prayer for the unseen existence and life on earth. With Butoh, she aims to stimulate people's senses and memories beyond time. She has been invited to perform at art festivals in Japan and abroad, like an appearance at MUTEK in December 2021. She is working to expand Butoh's recognition and present its next generation.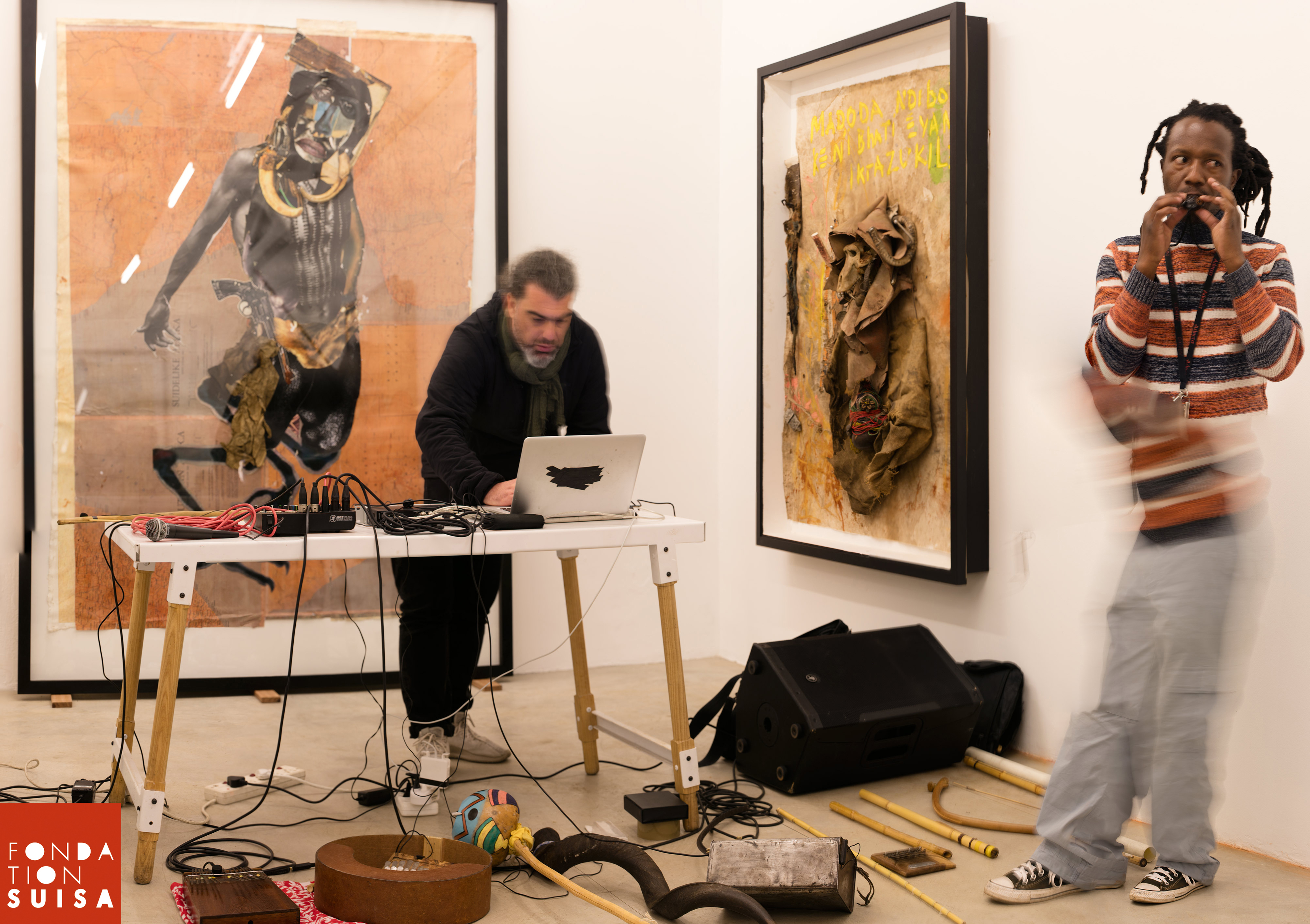 Photo by: Leon Krige.
Luca Forcucci is an artist, composer and scholar, who investigates the field of possibilities of the first-person experience through installations, performances, electroacoustic music, video, photography and text. His work is regularly presented in well regarded contexts like Experimental Intermedia Festival New York City 2023, Cyfest 2022 Yerevan, ISEA 2022 Barcelona, Ars Electronica 2021, ISEA 2018 Durban, ISEA 2017 Manizales, The Lab San Francisco, Festival Multiplicidade Rio de Janeiro, Ciclo de Música Contemporânea Salvador de Bahia, Shanghai RockBund Museum, MAXXI: Museum of XXI Century Arts Rome, Biennale Arcipelago Mediterraneo Palermo. The music is released on Subrosa, Cronica Electronica, Glistening Ensemble, LFO Editions among many others.
Mpho Molikeng, is a Lesotho-born multi-faceted artist (curator, actor, author, musician, painter, praise-poet, cultural activist/entrepreneur, and a teacher) playing trade in
Johannesburg, South Africa. He plays a host of African indigenous musical instruments of Southern Africa and always looking for ways to explore the indigenous sounds of Africa through different mediums.
https://lucaforcucci.bandcamp.com/album/b-l-e-e-n-dings
https://www.transcript-verlag.de/chunk_detail_seite.php?doi=10.14361%2F9783839447734-007