Codex Club x Tag der Clubkultur
Tuesday, 03.10.23, door 19:00
19:30

Broshuda

20:30

NO CUE (Session I)

21:00

NO CUE (Session II)

21:30

Chago (sound collage / dj set)
12 Euro At The Door
Morphine Raum,
Köpenicker Str. 147, 10997 Berlin
Hinterhof 1. Etage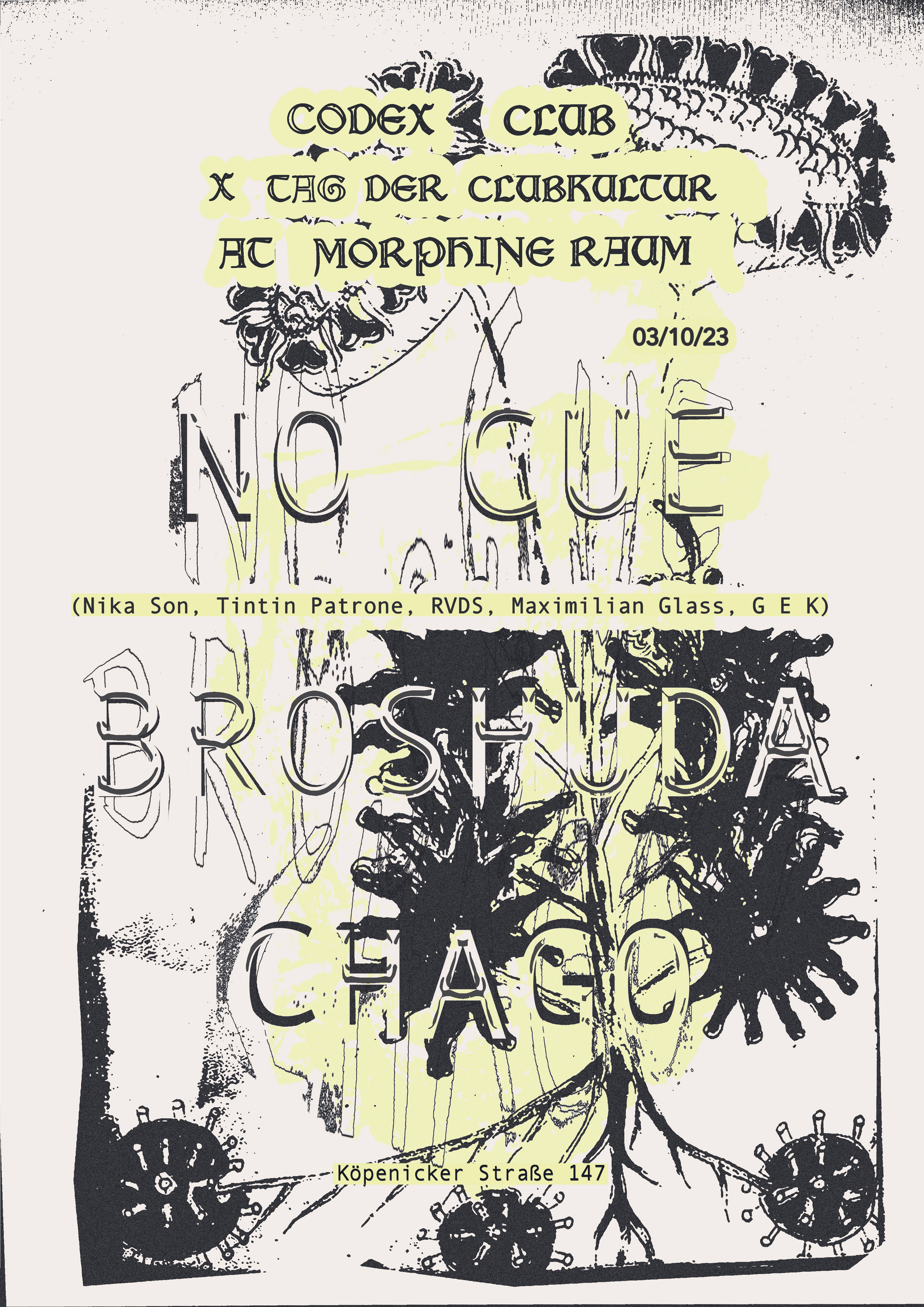 NO CUE
(Nika Son, Tintin Patrone, RVDS, Maximilian Glass, G E K)
The project NO CUE was formed in January 2022 during an artist-in-residency by Nika Son at ausland Berlin (Craving Coincidence). She invited the musicians Tintin Patrone, RVDS, Maximilian Glass and G E K to create a quadrophonic concert evening.
Their encounter resulted in fine grained, erratic and waywardly melodic sound essays with a wide variety of instruments and has been recently released on tape on the label Noctui.
Broshuda
Cross-pollinating a wide textural range of influences, Broshuda's music incorporates elements of sound art, electroacoustic techniques, chopped spoken word dissections and field recorded material, as well as more rhythmically oriented and noise-heavy excursions.
Though kaleidoscopically varied, the work is held together by a playful sense of experimentation and a willingness to explore new directions of sound through an experimental approach and the use of freeform production techniques to expand and further his already broad sonic palette.
Pursuing a strong Fluxus inspired interdisciplinary ethos in his artistic output, the same attitude is applied to his audio works, resulting in detailed sketches which at the same time show and disguise their inner logic while transporting a diverse range of carefully distilled feelings and emotions.
Chago / Codex Club / (sound collage / dj set)