Jendela Sonorama 10
Saturday, 29.07.23, door 19:30
20:00

Zazuka

20:45

Kei Watanabe
Jendela Sonorama is a communal listening and lecture-performance series developed in 2020 by Ariel Orah and Pedro Oliveira in collaboration with LK_W and Soydivision. In each session we host and present listening as a form of collective sharing and learning. Starting from but not constrained to our own personal record collections and research interests, we unpack affective sonic histories that deal, subtly or not, with the (often violent) devices, legacies, and complexities of colonialism. By understanding record collections as historical documents of a specific snippet of one's own identity, the sessions become improvised collages between existing material – songs and field recordings – and improvised, real-time creation responding to these materials. With that, it also blurs the idea of new music performance and DJ set, rejecting any well-defined point of entry or exit.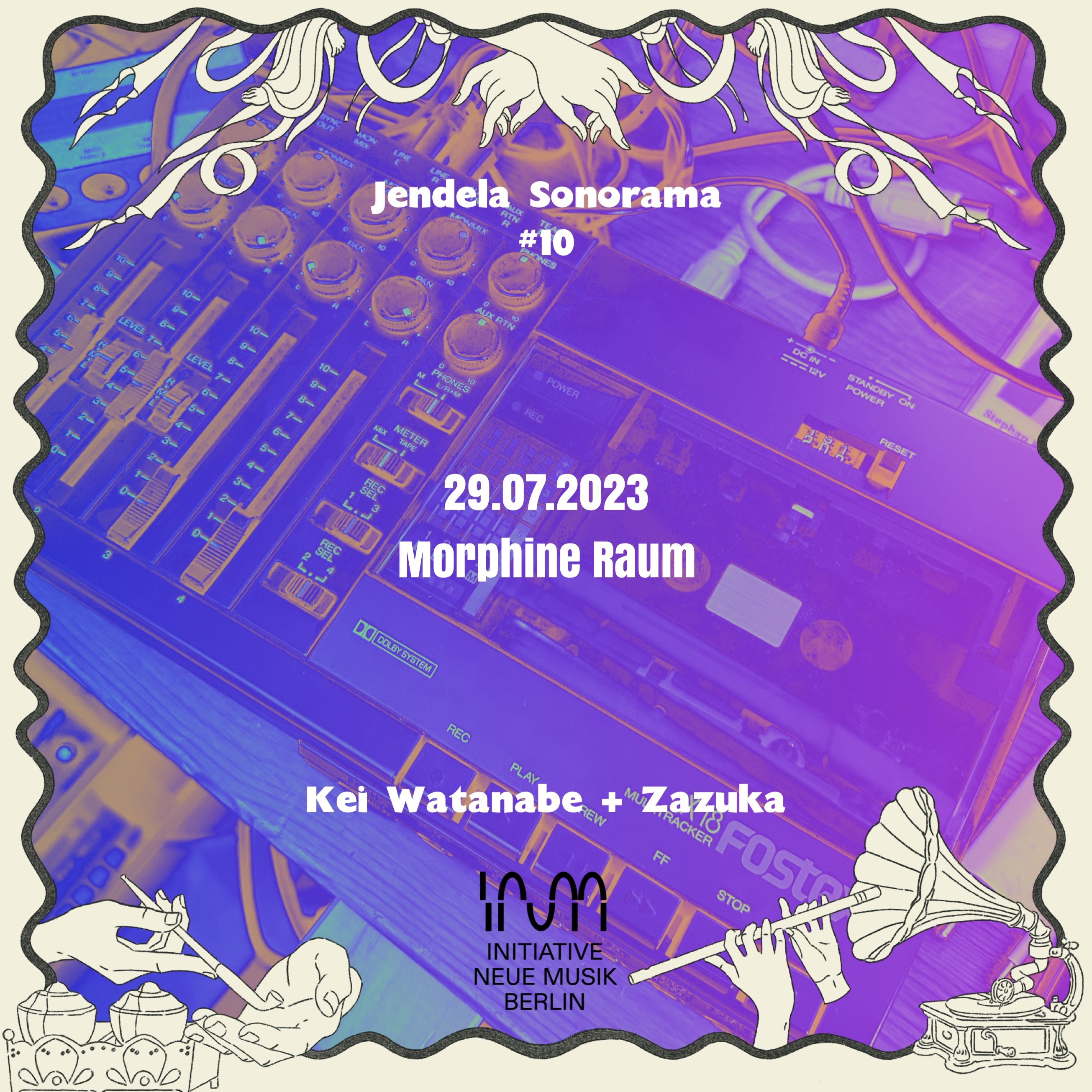 The goal of the sessions is to question the very idea of a "national identity", establishing a plural and multifaceted South-South dialogue. The series debuted in September 2020 and had six editions so far. We started from the specifics of Portuguese colonialism in Indonesia and Brazil (where we come from) but moved more towards the complexities of diasporic identities, melancholia, activism, and the dream of a "post-migration" world
Kei Watanabe is a Sri Lankan Japanese sound artist based in Berlin.
Primarily working with loops, found objects and voice, her current work is strongly influenced by the exploration and finding stillness within inner landscapes, processing of memory, prayer and despair.
Zazuka a Jordanian-Circassian Berlin-based composer, producer, and songwriter. She has developed an authentic style for intercultural music arrangements and composition through her experience in bands, theatres, and Sufi poetry groups and various chamber ensembles. Her composition works have been performed in Berlin, Beirut, Cairo, Cologne and Amman. In her most current work, the EP "Azem yi Pxu", is a healing exploration of the multiple facets of her linguistic and musical identity. For Jendala Sonorama, she will continue to explore healing through acceptance of multiple facets of cultural identity based on onomatopeiac words and sounds of nature.
Jendela Sonorama 2023 is made possible by the generous support of Initiative Neue Musik Berlin e.V.