Cloud Circuit / Alessandra Eramo
Thursday, 04.05.23, door 20:00
20:30

Alessandra Eramo

21:15

Cloud Circuit
10 Euro donation on the door.
Morphine Raum
Köpenicker Str. 147, 10997 Berlin
Hinterhof 1.Etage
Occulto presents Montreal poetry and electroacoustic duo Cloud Circuit (Jeremy Young & Deanna Radford) in collaboration with projectionist Frau Lelli, with support from Berlin based voice and sound artist Alessandra Eramo.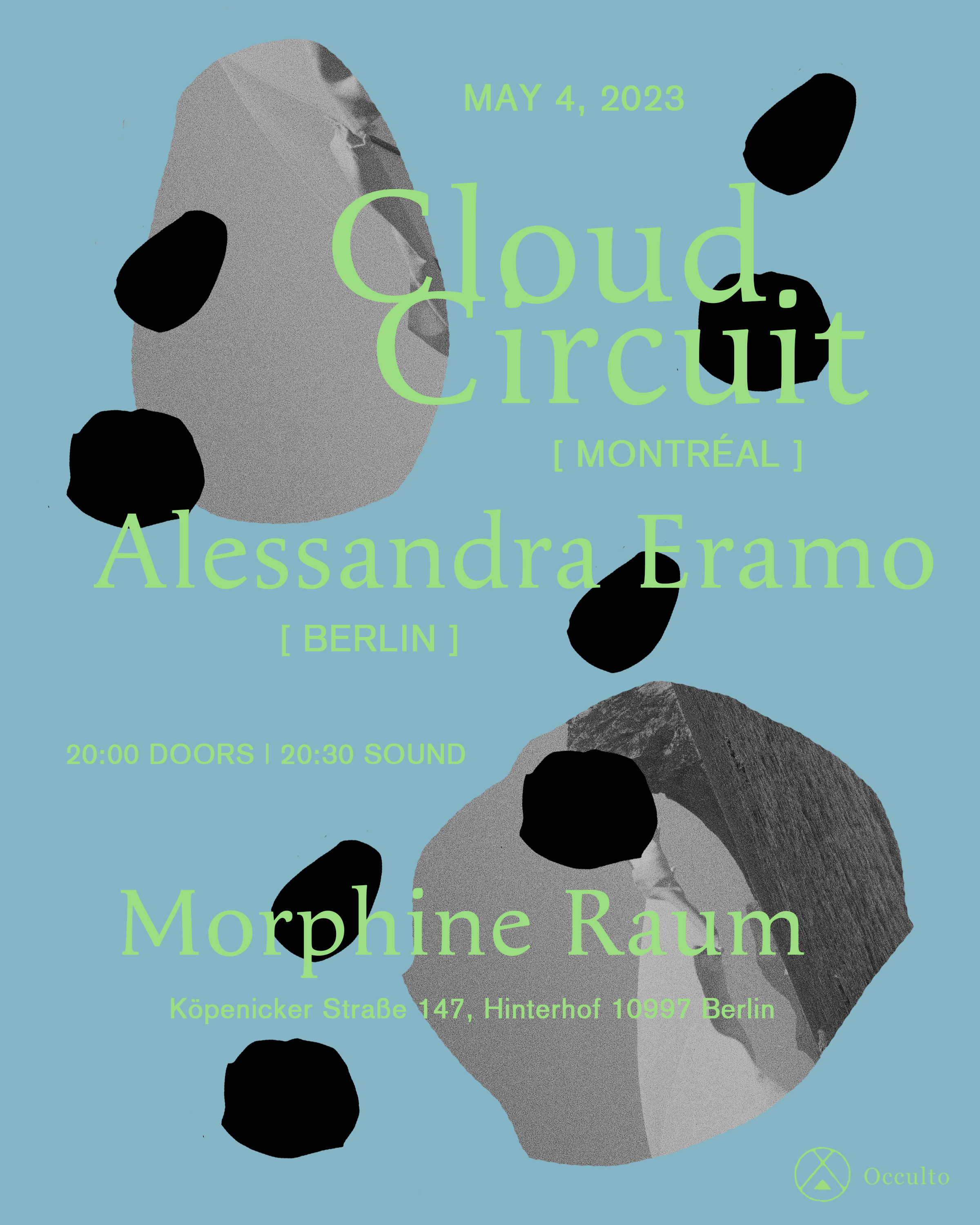 Cloud Circuit finds inspiration in communication gli//tc;hh()h, brok()n spee?()-eech, and contact lost. Its motors are the grey areas of connection, those lost threads, dropped signals, failures of technology, and outages at the edge of night. In performance, Cloud Circuit's approach is collaborative and improvisational; its sound composed, dissected, and refracted. Deanna Radford channels her poetry as deconstructed word events, Jeremy Young plays sine tones in flux and amplified surfaces. They have shared the stage with David Grubbs, Ora Clementi (crys cole & James Rushford), Sam Prekop, Flying Hórses, skintone, Alex Zhang Hungtai, Paul Dutton, Lea Bertucci, Vito Ricci, Sarah Pagé, Kee Avil, Greg Davis, Eliza Kavtion, and more. Cloud Circuit's début EP, Bur sting brea k'r, came out via Montreal's Archive Officielle Publications in 2020, and their début full-length LP, recorded at Hotel2Tango with Radwan Ghazi Moumneh, will be released in 2024.
Alessandra Eramo (*1982 Taranto, IT) is a Berlin-based sound artist, vocalist and composer who works with performance and installation, sound and visual poetry, video, drawing and text, exploring latent acoustic territories of the human voice and noise as socio-political matter. She develops interdisciplinary art projects and conceptual performances that address questions of the body, memory and identity, often adopting participatory actions, field recording, site-specific modes, and experimental approaches to composition. Central to her practice is extending the voice in all its forms and implications in sonic and visual contexts, crossing boundaries of genres and traditions. Her current research focuses on the invisible and the materiality of the voice, the tension between vocality and writing, performative rituals and trance-like states with singing.
Cristina Lelli (aka Frau Lelli) develops analog animations by overhead projector. Her psychedelic, poetic, mesmerizing projections are created in real time, inspired by a dialogue with music, soundscapes, poetry and dance. Her visual vocabulary shows contrasts between dry/liquid materials, curious/ordinary objects that are given a new meaning once projected. She also co-created several shows with a studied visual dramaturgy, among which the classical music concert "Atlantis - Expedition unter dem Meer" in the Theater Bremen and the hula-hoop show "Im Kreise geht die Reise".